The Ukrainian president has told Sky News he is "very happy" and "thankful" that Germany has decided to supply 14 Leopard 2 tanks – but warned the quantity and delivery time of the vehicles is "critical".
Speaking in an exclusive interview with Kay Burley on his 45th birthday, Volodymyr Zelenskyy thanked allies around the world for their support since Russia's invasion of his country.
"I would like to say thank you to Germany, to Britain and to the United States that they made this decision," he told Sky News.
Russia sends warning to US over tanks – Ukraine latest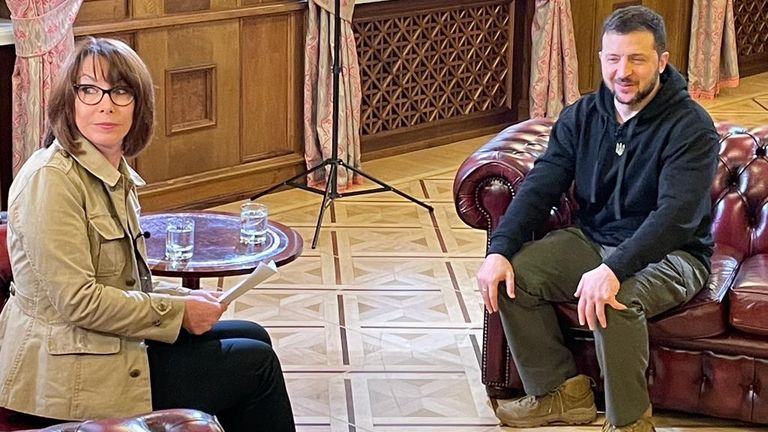 He continued: "Overall I am very thankful to the world for the support for Ukraine. But speaking frankly, the number of tanks and the delivery time to Ukraine is critical."
Mr Zelenskyy learnt that Germany had ended weeks of indecision and decided to send Ukraine the Leopards during the interview with Sky News.
Olaf Scholz, the German chancellor, said Berlin would send the Leopard 2 tanks to Kyiv and authorised allies to re-export theirs – despite threats from Russia.
After the announcement, the Kremlin said: "These tanks will burn down just like all the other ones."
Germany's decision means that other countries, such as Poland and Spain, with stocks of the NATO-standard tank can now send them to Kyiv.
The Russian embassy in Berlin condemned the move as an "extremely dangerous decision" and an "escalation" of the conflict.
Mr Scholz said Germany was "acting in close co-ordination" with its allies.
The aim is to provide Ukraine with two battalions – 88 tanks – together with other allies.
Germans to deliver 'battle tanks to Ukraine'

Read more:
Germany to send 14 Leopard 2 tanks to Ukraine
What are Leopard 2 battle tanks?
Biden to give speech on Ukraine crisis
The long-awaited decision comes after US officials said a preliminary agreement had been struck for the United States to send M1 Abrams tanks to help Kyiv push back Russian forces and win back territory occupied by Russia.
Joe Biden, the US president, is due to give a speech on continued US support to Ukraine this afternoon.
The White House did not elaborate on what he would say, but it will follow Germany's announcement and days of political impasse – and opens the door for more nations to send tanks to Ukraine.
US Brigadier General Patrick Ryder said discussions were "ongoing" about what Ukraine needed but did not confirm whether the US will send the tanks.
Kremlin: Tanks will burn
Kremlin spokesman Dmitry Peskov described German and US intentions as "a rather disastrous plan".
"I am convinced that many specialists understand the absurdity of this idea," he said on Wednesday.
"Simply because of technological aspects, this is a rather disastrous plan.
"The main thing is, this is a completely obvious overestimation of the potential [the tanks] would add to the armed forces of Ukraine. It is yet another fallacy, a rather profound one.
"These tanks will burn down just like all the other ones… Except they cost a lot, and this will fall on the shoulders of European taxpayers."
Watch the full interview with Mr Zelenskyy on Kay Burley at 7am tomorrow