Prime Minister Narendra Modi has said people found "guilty" for the deadly train crash in India will receive the "harshest punishment".
At least 288 people were killed and more than 850 injured in Friday's accident in Odisha's Balasore district state.
On his visit to the crash site on Saturday, Mr Modi also pledged to look after the families of those killed and injured in the accident.
"This is a very big, painful and disturbing incident, those family members who have been injured, the government will leave no effort for their well-being," he told reporters.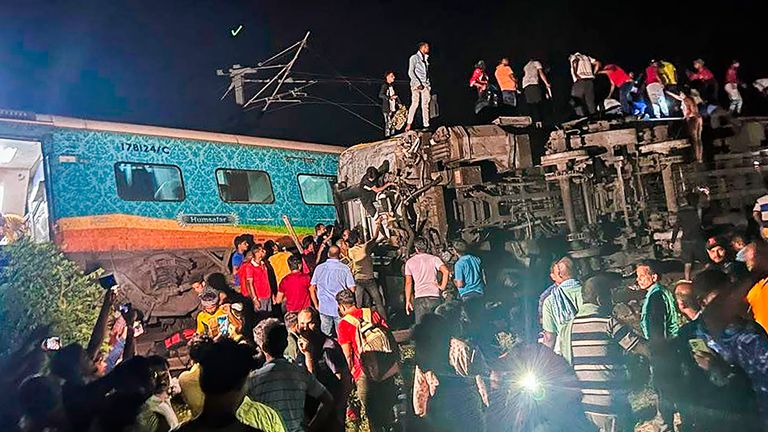 "Those we have lost will not come back, the government is with the families in hour of grief. It's a very serious matter of concern for the government.
"Instructions have been given for all types of enquiries and the guilty should get the harshest punishment, they will not be spared."
A preliminary report indicated that the accident was caused by signal failure, leading one passenger train to come off the tracks and hit another one. A further freight train was involved in the incident that took place around 7pm local time on Friday.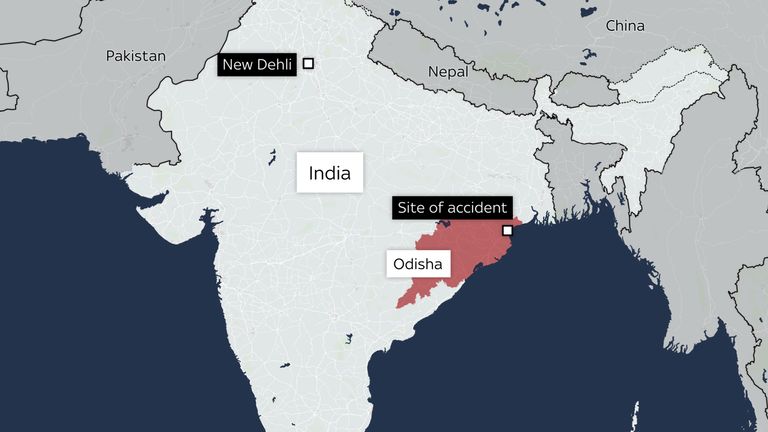 K S Anand, chief public relations officer of the South Eastern Railway, said: "The Coromandel Express was supposed to travel on the main line, but a signal was given for the loop line instead, and the train rammed into a goods train already parked over there.
"Its coaches then fell onto the tracks on either side, also derailing the Howrah Superfast Express," he said.
Many dead bodies remain in the wreckage of the trains, and the death toll is expected to continue rising.
'We saw many dead bodies'

Read more:
Hundreds of dead and injured in worst crash for decades
Explainer: How safe is the country's rail network?
Passenger Anubha Das said he would never forget the scene.
"Families crushed away, limbless bodies and a bloodbath on the tracks," he told Reuters.
Video footage showed derailed train coaches and damaged tracks, with rescue teams searching the mangled carriages to pull the survivors out and rush them to hospital.
Dead bodies were lying on the bloodstained floor of a school used as a makeshift morgue, and police helped relatives identify the bodies, covered with white cloths and placed inside chained bags.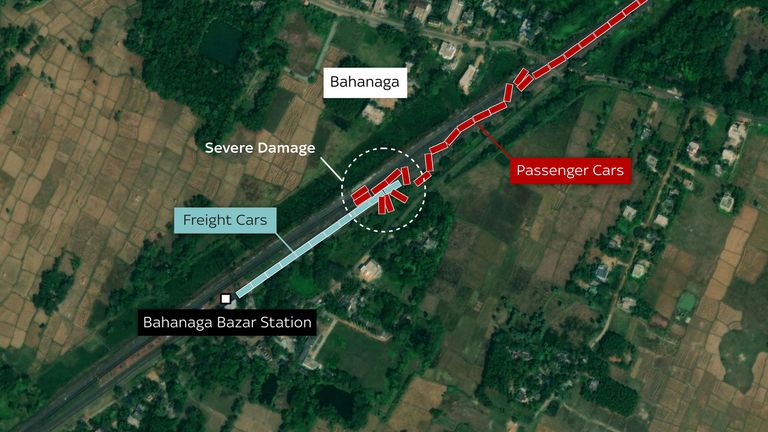 Mr Modi talked to rescue workers and inspected the wreckage on Saturday. He also met with survivors at hospitals.
"[I] took stock of the situation at the site of the tragedy in Odisha. Words can't capture my deep sorrow. We stand committed to providing all possible assistance to those affected," he said.
Families of the dead will receive 1 million rupees ($12,000), while the seriously injured will get 200,000 rupees, with 50,000 rupees for minor injuries, railway minister Ashwini Vaishnaw said. Some state governments have also announced compensation.
"It's a big, tragic accident," Mr Vaishnaw told reporters after inspecting the accident site. "Our complete focus is on the rescue and relief operation, and we are trying to ensure that those injured get the best possible treatment."
India's worst train disasters
June 1981: India's most deadly train disaster happened in Bihar state, near the Nepalese border. At least 800 people died after seven coaches of an overcrowded passenger train blew off the track and into a river during a cyclone.
July 1988: In Quilon, southern India, 106 people died when an express train derailed and fell into a monsoon-heavy lake.
August 1995: At least 350 people were killed when two trains collided 125 miles from Delhi.
August 1999: Two trains crashed near Calcutta, killing 285 people.
October 2005: In Andhra Pradesh state, at least 77 people died when several coaches of a passenger train derailed.
July 2011: In Fatehpur, Uttar Pradesh, a mail train derailed, killing 70 people and injuring more than 300.
November 2016: An express train derailed in Uttar Pradesh, killing 146 people and injuring more than 200.
January 2017: In Andhra Pradesh, 41 people died when several coaches of a passenger train left the track.
October 2018: At least 59 people died in Amritsar city, northern India when a commuter train crashed into a crowd gathered on the track for a festival. Fifty-seven people were injured.
Opposition Congress party leader Jairam Ramesh said the accident reinforced why safety should always be the foremost priority of the rail network.
Mr Modi's administration launched high-speed trains as part of plans to modernise the network, but critics say it has not focused enough on safety and upgrading ageing infrastructure.