Rishi Sunak says he is confident a trade deal will be struck between the UK and India after meeting with Narendra Modi at the G20 summit.
The meeting came as the Indian prime minister said a consensus had been reached on a G20 leaders' declaration and it has now been adopted.
The wording around the war in Ukraine had proved contentious in the run-up to the weekend, threatening to leave the summit without a leaders' declaration for the first time in its 20-year history.
Leaders have reached a compromise on the language used to describe the war, although details are yet to be released.
It could be similar to the language used at last year's summit, which noted that while most nations condemned Russia's invasion, there were also diverging views.
Mr Sunak is visiting Delhi for the first time as prime minister to attend the G20 summit.
"It is a historic moment for India but also for the world in the way that you've done it," he told Mr Modi.
The leaders embraced as they met, with Mr Sunak commenting: "Everyone is excited, everyone is proud, it looks great."
The pair discussed negotiations surrounding a potential UK-India free trade deal during the bilateral meeting.
Rishi Sunak arrives in Delhi for G20

While Mr Sunak had been positive about the progress of negotiations in advance of the meeting, he warned a deal was "not a given".
Speaking to reporters on his way to the summit, he said "enormous progress" had been made on a trade deal but it was "not the main purpose of this trip".
"These things are a lot of work and a lot of time. That's why I've never put an artificial deadline on these trade deals, I've always said we shouldn't sacrifice quality for speed. And we need to end up with something that works genuinely for both sides."
A second visit to India is being discussed for later this year, with hopes a deal may be reached then.
Boris Johnson and Liz Truss set a deadline for a deal by Diwali in October last year, but Mr Sunak has rejected this timescale, pushing for a deeper deal over one achieved quickly.
He has previously told cabinet colleagues he does not want a simple deal on goods, but a comprehensive deal which tackles issues around services.
Read more:
Trade deal with India not guaranteed soon – this is why
India: Sectarian violence between Hindus and Muslims on the rise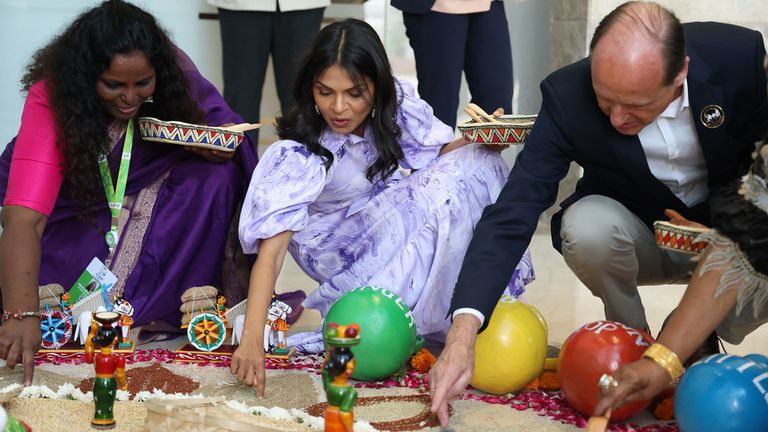 The deal is reportedly being held up by a number of issues, including a disagreement over the number of visas for Indians to work in the UK and differences over the level of access British car manufacturers should be given to India's market of 1.4 billion people.
Elsewhere at the summit, leaders granted permanent membership to the African Union in an effort to make the G20 more representative.
The G20 agenda featured issues critical to developing nations, including alternative fuels like hydrogen, resource efficiency, food security and developing a common framework for digital public infrastructure.
The summit is expected to be dominated by the West and its allies, with the Ukraine war looming large. Chinese President Xi Jinping is skipping the meeting and has sent premier Li Qiang instead, while Vladimir Putin has sent foreign minister Sergey Lavrov in his place.