Israel's Prime Minister Benjamin Netanyahu has said the ongoing ground operation in Gaza is the "second stage of the war" after additional forces entered the territory.
He described having troops on the ground as "only the beginning" and said Israel's military would exert every effort to return those who have been taken captive.
Mr Netanyahu, who said the war inside Gaza would be "difficult and long", reiterated a warning to the civilian population in northern Gaza to move to the south.
His defence minister, Yoav Gallant, also confirmed that Israeli forces were now "fighting in the air, sea, and on the ground".
Mr Gallant said that the Israeli air forces had "made the ground tremble" with their bombardment of Gaza on Friday night.
He also said Israel was willing to do "whatever it takes" to free the 229 hostages taken by Hamas fighters on 7 October.
"This is not a secondary mission. This is a mission of utmost importance," Mr Gallant said.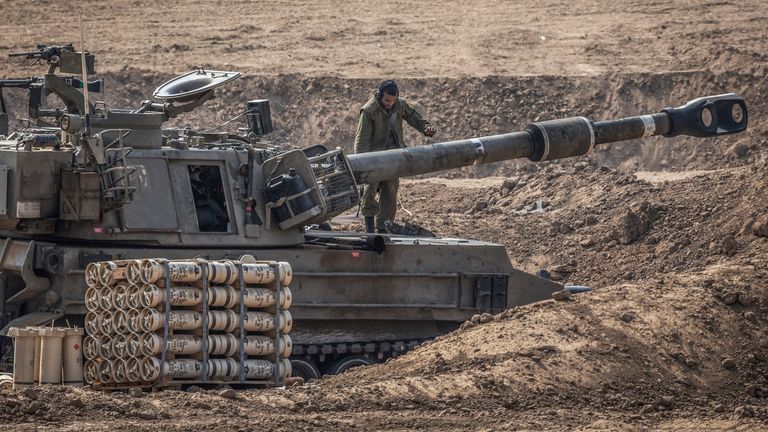 Israel expands ground operations
It comes after Israel's top military chief said there was "no other way" to "destroy" Hamas than to "enter its territory with force".
Israeli chief of the general staff, Herzi Halevi, also said the country's "best soldiers" were "now operating in Gaza".
Israel-Gaza latest: Netanyahu warns conflict will be 'long and difficult'
Israel expands ground operations

Soldiers from the Israel Defence Forces (IDF) had previously conducted overnight raids in Gaza – returning across the border before sunrise.
However, Israeli soldiers who crossed the border into the Gaza Strip on Friday night remained there on Saturday morning.
Israeli officials had earlier announced they were expanding ground operations "to achieve the objectives of the war".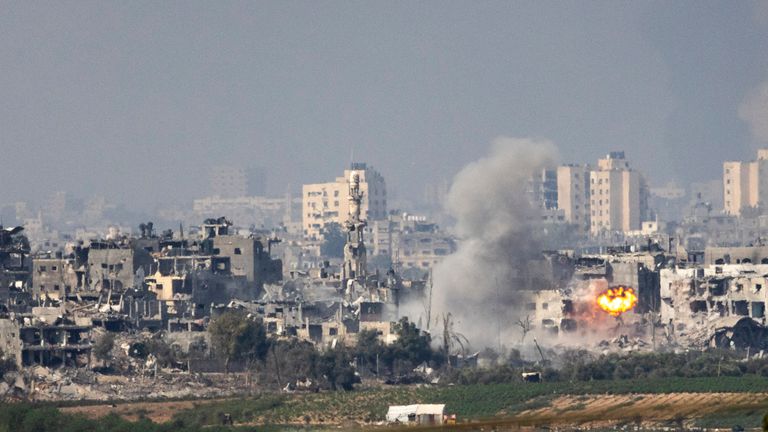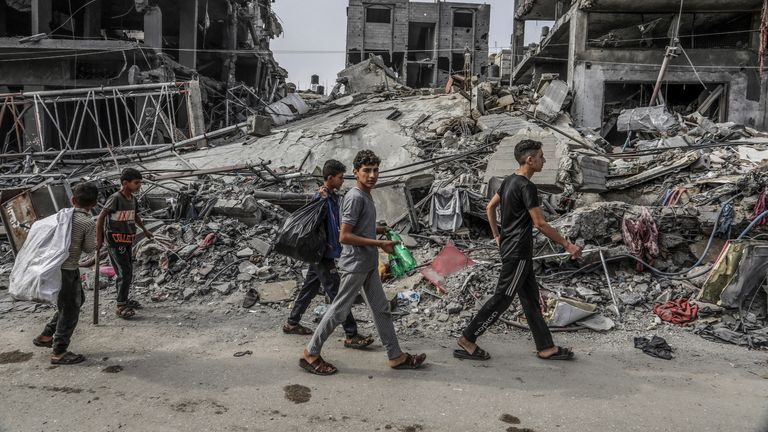 Hamas said on Friday that its fighters had clashed with Israeli troops in Gaza's northeastern town of Beit Hanoun and in the central area of al Bureij.
"The al Qassam brigades and all the Palestinian resistance forces are completely ready to confront [Israel's] aggression with full force and frustrate its incursions," Hamas said in a statement.
Gaza came under heavy bombardment on Friday night, with Israeli fighter jets hitting 150 underground targets in the north, the IDF said on Saturday.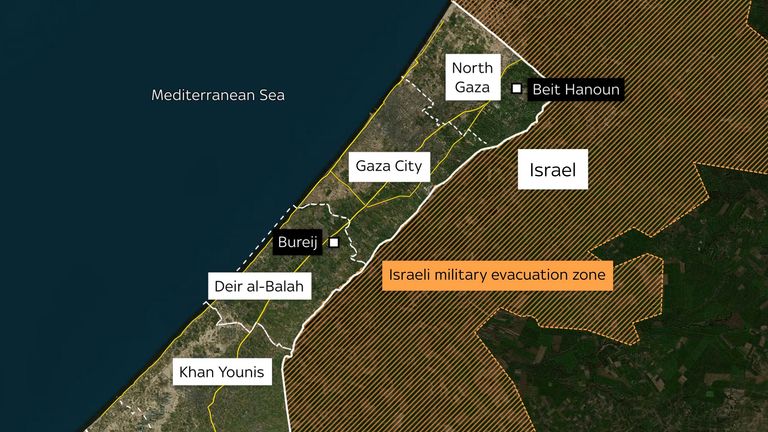 The Palestinian telecom provider, Paltel, said the bombardment caused "complete disruption" of internet, cellular and landline services as the besieged enclave's 2.3 million people were largely cut off from contact with the outside world.
More than 7,300 Palestinians have now been killed in airstrikes, Hamas-run authorities in Gaza have said.
Under pressure Netanyahu has prepared his country for a long fight
After three days of increasing ground operations in Gaza, Benjamin Netanyahu appeared on live television and said the next phase of the war is under way.
The view among Israel's defence establishment is that this is not the outright invasion of Gaza but a major escalation in operations.
Mr Netanyahu again prepared the country for a long fight – the impression being that there is more to come, if necessary.
After 72 hours of rumours that a diplomatic deal to release hostages was imminent, it appears that the Israel has decided that Hamas was just stalling for time and is now taking events into their own hands.
Mr Netanyahu appeared beside his defence minister Yoav Gallant and leader of the opposition and now member of the War Cabinet Benny Gantz.
Both men are former IDF commanders and highly respected in Israel. Mr Gantz regularly leads the polls as the man Israelis want as their next prime minister.
Mr Netanyahu is under pressure. It was notable that the questions for the gathered Israeli media targeted him and his failings.
He was asked if he has 'blood on his hands' in reference to the 2011 prisoner swap when an Israeli soldier Gilad Shalit was freed in exchange for 1,027 Palestinian prisoners – among them Yahyeh Sinwar, the now leader of Hamas in Gaza and central figure in the 7 October terror attacks.
Israel is single-minded in its focus to eliminate Hamas and rescue the 229 hostages. It's an enormous task, and even if they succeed, Mr Netanyahu's political future looks in doubt.
Calls for a ceasefire
It comes after Israel's neighbour, Jordan, put forward a resolution at the UN General Assembly on behalf of Arab nations, calling for a humanitarian ceasefire between Israel and Hamas.
The resolution by the 193-strong world body was approved on Friday – despite Israel and the US both voting against it and the UK abstaining.
However, it does not force any action on either Israel or Hamas.
Scottish first minister calls for a ceasefire in Gaza

Read more:
Israel accuses Hamas of launching attacks from inside Gaza hospitals
US launches retaliatory strikes on Iran-linked munition storage sites in Syria
Meanwhile, the United Arab Emirates (UAE) on Saturday condemned the Israeli ground operations in the Gaza Strip, the state news agency WAM reported, citing the country's foreign ministry.
The UAE, which normalised relations with Israel in 2020, also "expressed its deep concern over the Israeli military escalation and exacerbation of the humanitarian crisis that threatens more loss of civilian lives", WAM reported.
A diplomatic row between Turkey and Israel also escalated on Saturday.
Pro-Palestinian protesters sit down at Waterloo station

Israel recalled its diplomats from Turkey over "increasingly harsh statements" coming from the government in Ankara.
President Recep Tayyip Erdogan told a massive protest crowd in Istanbul that his government was preparing to declare Israel a "war criminal" due to its actions in the Gaza Strip.
In the UK, tens of thousands of pro-Palestine demonstrators gathered in London, with other protests organised elsewhere in the UK including Manchester and Glasgow, to call for an end to Israel's bombing of the Gaza Strip.
Home Office sources said around 50,000 to 60,000 people attended the protest in the capital.