Style Points is a weekly column about how fashion intersects with the wider world.
Minimalism. Stealth wealth. Capsule wardrobes. All part of the less-is-more ethos that has, over the past few seasons, elbowed maximalism out of the way like a dawdling tourist. (And with the news that Phoebe Philo, the master of the form, is returning to fashion this fall, that trend isn't going away.)
But if restrained, Carolyn Bessette-like elegance appears to be the main thread of the season so far, there's another—zig-zag, jagged, artfully ripped—one already running through fall 2023. At New York Fashion Week, a group of young female designers all celebrated the trope of the quirky art school girl, complete with creative knitwear, off-center embellishments, and Surrealist accessories.
Rodarte came back to fill the Rodarte-shaped hole in fashion week with its gothic fairy-inspired collection, complete with a glittering banquet tablescape. (Undoubtedly, Kate and Laura Mulleavy have been streaming Wednesday.) A particular standout for longtime Rodarte followers: a revival of the shredded knits that the label showed in fall 2008—which feel fresh again, with a "just-threw-this-on-for-my-sculpture-seminar" quality.
At Puppets and Puppets, designer Carly Mark made a return to the runway with a collection inspired by David Cronenberg's Dead Ringers (which is definitely in the zeitgeist: it's getting an Amazon Prime reboot, starring Rachel Weisz). Mark has become downtown-notorious with her conversation-starting cookie- and landline-shaped phone bags. Perhaps less real life-ready but still enchanting were her surrealist egg and rosette bras, which she paired with painterly prints (for the art history buff who doesn't want to choose between Dalí and Delacroix). And the ongoing food-and-fashion trend was driven home with food sculptures made by the artist Quori Theodor.
Batsheva Hay turned her show into a DIY art project, inviting friends to model her clothes and write their feelings on them. "I still think about the wearer and how they will connect emotionally when trying on my clothing," she explained in her show notes. Hearts on their sleeves, feelings on their bodices, the models made her buttoned-up silhouettes feel surprisingly unguarded.
Emma Gage's line, Melke, made its runway debut with a show inspired by James and the Giant Peach (both the book and the 1996 movie). While the pieces may have looked delightfully silly, she put a serious focus on handicraft, with "peaches" handmade in Brooklyn and bugs embroidered by a Ukrainian craftsperson.
And finally, there was Ella Emhoff, perhaps the ur-art girl, who displayed her namesake knitwear creations at a fashion week pop-up at Spring Studios. A gonzo art installation with faux rolling hills made from AstroTurf featured mannequins in her colorful, chunky sweaters and balaclavas. It was almost enough to make you want to go back for an MFA.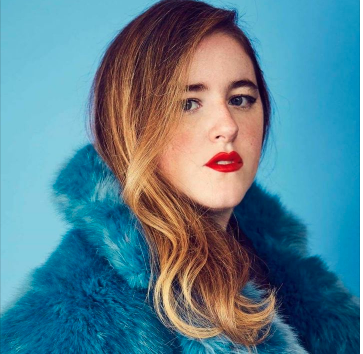 ELLE Fashion Features Director
Véronique Hyland is ELLE's Fashion Features Director and the author of the book Dress Code, which was selected as one of The New Yorker's Best Books of the Year. Her writing has previously appeared in The New York Times Magazine, The New Yorker, W, New York magazine, Harper's Bazaar, and Condé Nast Traveler.