A Los Angeles judge has sentenced the killer of rapper Nipsey Hussle to at least 60 years in prison.
Eric R Holder Jr, 33, had been found guilty of the 2019 murder of the Grammy-nominated hip hop artist.
The rapper, also 33, was shot outside the clothes shop he founded in the south Los Angeles area that both men grew up in.
Superior Court Judge H Clay Jacke II handed down a sentence of 60 years to life on Wednesday after the month-long trial. Holder was not eligible for the death penalty.
The jury also found Holder guilty of two counts of attempted voluntary manslaughter and two counts of assault with a firearm for gunfire that hit two other men at the scene who survived.
Judge Jacke sentenced Holder to 25 years to life for the murder, 25 more for a firearm sentencing enhancement and 10 for assault with a firearm.
April 2019: We must have stronger gun laws – Stevie Wonder

Jurors returned with the first-degree murder verdict after around six hours of deliberations.
The evidence against Holder was overwhelming with eyewitnesses and surveillance cameras from local businesses showing his arrival, the shooting and his departure.
Holders's attorney also conceded during trial that he had shot Hussle.
Both Hussle, whose legal name is Ermias Asghedom, and Holder were rappers that had known each other for years growing up as members of the Rollin' 60s in South LA.
But Holder did not experience the same success as Hussle, who would go on to find fame and critical acclaim in the music industry.
Read more:
Nipsey Hussle: Man found guilty of rapper's murder
Nipsey Hussle funeral shooting: One dead and three hurt
Click to subscribe to Backstage wherever you get your podcasts
Actor Lauren London, who was Hussle's partner, did not attend any part of the trial, nor did any of his relatives. None are expected to give victim impact statements.
A close friend of Hussle, Herman "Cowboy" Douglas, who was standing with him when he was killed told the court that his murder was a tremendous loss both for him personally and for the South Los Angeles community where the rapper was a business leader and an inspiration.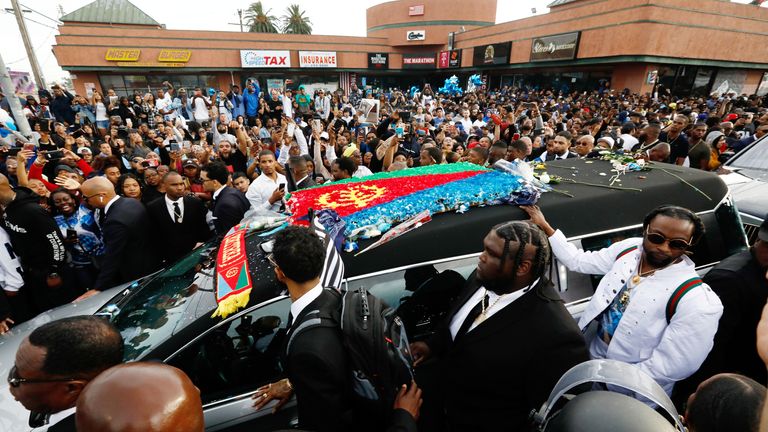 "Nipsey was my friend, he was like a son, he was like a dad," Douglas said. "Our community right now, we lost everything, everything we worked for. One man's mistake, one man's action, messed up a whole community."
Douglas added: "I don't care what you give this guy. It ain't about the time. I just want to know why. The world wants to know why. Why someone would do that?"
Holder's attorney Aaron Jansen said he was "deeply disappointed" in the verdict, which he planned to appeal.