Grant Shapps is expected to become the UK's new defence secretary as the prime minister carries out a reshuffle at the top of government, Sky News understands.
Ben Wallace announced last month that he would be leaving the role the next time Rishi Sunak made changes to his cabinet – as well stepping down as an MP at the next election.
Now sources have told Sky News he will be replaced by the current energy security and net zero secretary, Mr Shapps.
Mr Shapps was seen entering Number 10 just before 9am on Thursday morning, giving a wave to the gathered journalists as he entered.
Sky's deputy political editor Sam Coates said it would be a "big promotion" for the long-time ally of Rishi Suank.
Politics live: Mini-reshuffle begins – follow live updates
Mr Wallace officially resigned his post on Thursday morning, saying it had been a "privilege" to serve in the post for four years.
In his letter to the PM, he said the Ministry of Defence was now "more modern, better funded and more confident than the organisation I took over in 2019", and it was "back on the path to being once again world class with world class people".
And in a parting shot to secure his department's future, Mr Wallace added: "I know you agree with me that we must not return to the days where defence was viewed as a discretionary spend by government and savings were achieved by hollowing out.
"I genuinely believe that over the next decade the world will get more insecure and more unstable. We both share the belief that now is the time to invest."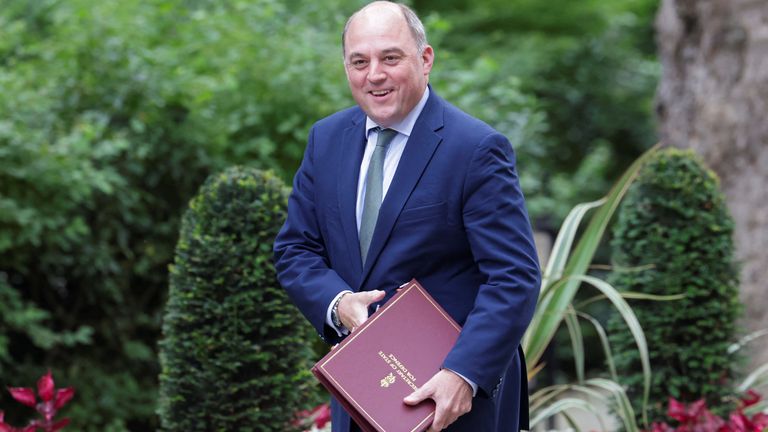 Mr Sunak responded to the letter by saying the outgoing defence secretary had "served our country with distinction".
He added: "I fully understand your desire to step down after eight years of exacting ministerial duties. As you say, the jobs you have done have required you to be available on a continuous basis.
"But I know you have more to offer public life both here and internationally. You leave office with my thanks and respect."