On 7 October – three weeks ago this weekend – Hamas launched a vicious, deadly and barbaric attack on Israel.
Hamas is no match for Israel's military capability, and the world watched in trepidation as Israel mobilised over 350,000 reservists and prepared for swift and decisive military retribution.
However, three weeks later, despite regular threats from Prime Minister Benjamin Netanyahu, the Israeli ground offensive has yet to materialise.
IDF expanding ground operations and warns Gaza City residents to move south – Israel-Gaza live updates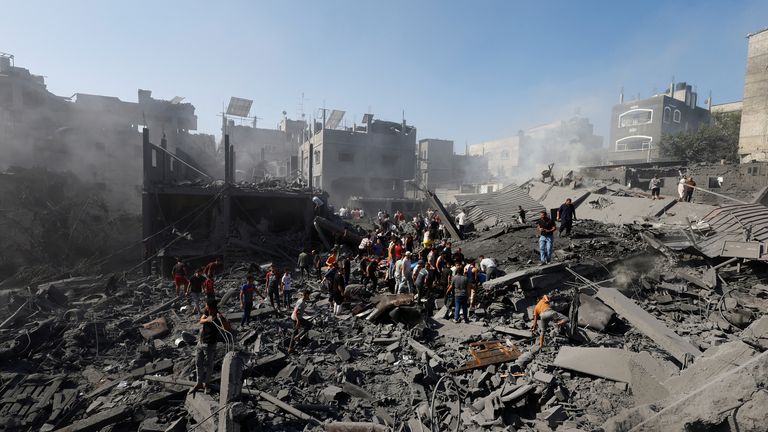 Why has Israel's fiery rhetoric not (yet) translated into decisive military action?
Hamas might not match Israel's military might, but its attack against Israel was well planned and conducted without apparent warning – despite Israel's renowned intelligence services.
The atrocities committed by Hamas fighters on 7 October were inhuman and senseless and Hamas would have known that such action would provoke violent Israeli vengeance.
By planning to seize hundreds of hostages, Hamas was planning to temper Israel's response options, while also attracting the attention of the international community and the world's media to the plight of the Palestinians.
Israel 'preparing ground' for incursion

Gilad Shalit – an Israeli Defence Force soldier – was taken hostage by Hamas in 2006 and only released over five years later in 2011 – Hamas knows that hostages have value.
Israel holds over 50,000 Palestinian prisoners – many of whom are linked to Hamas – and Hamas has demanded the release of all of these in return for the Israeli hostages.
But why delay Israel's ground offensive? Given the detailed planning involved in the 7 October attack, it is very likely that Hamas would have been well prepared for an Israeli "invasion" – a Hamas trap could have left the Israeli military badly mauled.
Iran has been providing weapons to Hamas (and Hezbollah) for decades, so Israeli counter-attacking forces would have faced a deadly assortment of anti-tank missiles, mines and booby traps, all designed to inflict further damage on both the IDF soldiers and their reputations.
IDF 'preparing on all fronts'

'Destroying Hamas' is not a practical objective
Regardless, Prime Minister Netanyahu was angry and looking for a rapid military response. He promised that Hamas would be destroyed and that a ground offensive would be launched.
While his forces mobilised and military preparations were undertaken, an extensive bombing campaign was launched to tackle the huge Master Target List of known Hamas infrastructure, leadership and weapons.
However, military force requires a clear objective – "destroying Hamas" is a catchy soundbite for the media but is not a practical objective from a military perspective.
Read more:
Israeli military says it is expanding ground operations
Israel accuses Hamas of launching attacks from inside Gaza hospitals
A bombing campaign might destroy the majority of Hamas's military capability, but in so doing the Israelis have also inflicted huge casualties on the Palestinian population.
At the time of writing, Israel claims to have suffered around 1,400 casualties on 7 October, but since then the Hamas-controlled Gaza Health Authority claims that more than 7,000 Palestinians have been killed.
Civilians in Gaza are in desperate need – and are running out of key resources

A ground offensive would involve greater Israeli casualties, would take time, would exacerbate the humanitarian situation, and would inevitably increase the risk to those hostages still alive.
Increasing diplomatic pressure on Israel
And time is not on Israel's side. Every day that goes by there is increasing international diplomatic pressure on Israel to curb its military response, and Israel is heavily reliant on Western support both economically and militarily.
And, a recent poll of Israelis showed that a minority support a ground offensive.
Despite Mr Netanyahu's anger, even Israelis recognise that there is no military solution to the regional frictions.
Click to subscribe to the Sky News Daily wherever you get your podcasts
The dark shadow of Iran continues to exploit historical frictions to inflame passions, and the international community's focus on taking sides has distracted from the core focus which should be on saving the lives of the innocent victims of this conflict.
There does appear a glimmer of hope that international pressure will temper Israel's military options and although more "raids" will be expected, it looks increasingly likely that the more extreme Israeli military options are gradually being curtailed.
But, even when this immediate crisis has subsided, without political engagement, dialogue, negotiation and compromise, this will be nothing more than a temporary respite – perhaps days, maybe years – before the violence erupts once again.